Certified Lean Six Sigma
Green Belt
Simply the Best Lean Six Sigma Trainings in India
Program Registration and Pricing
One Awesome
Green Belt

2 Flavors
Online

₹
9000
/- with Tax
Max Discount throughout 2020
Offline

₹
14000
/- with Tax
Max Discount throughout 2020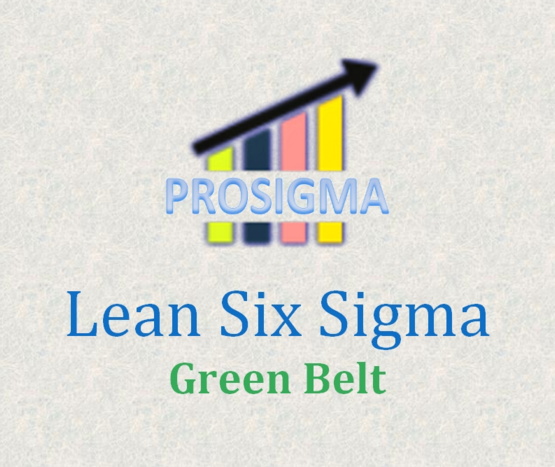 Join the ProSigma
Green Belt

League today ...

Give your career an awesome boost; Get Max Discount* throughout 2020 for our certification package..., just fill the below form and we will get back to you with our quick enrollment process (less than a minute),
You can check out the Training Calendar dates here

*Regular Price for offline classes is ₹ 18,000/-, but currently offered at a discounted price of ₹ 12,000/-
Course Outline (Contents in Brief)
Examination Process
– 100 Multiple Choice Questions to be attempted in 3 hrs.
– Closed Book and Proctored Exam.
– ProSigma Certification Exam fee included in the program cost: Yes
– ProSigma Certificate is Globally Valid, Can be verified Online, Issued for Lifetime
Program Workflow
– Class leading delivery, content and duration offered only by ProSigma in India
– 28 hrs. Instructor Led training (6 hrs. online) + 8 hrs. self study and exercises + 18 hrs. project work (54 hrs. total)
– Complete capstone projects with full support and facilitation
– On registration a light preparatory module is sent for self study
Offline Workshop:
– Day 1: 8 hrs. interactive workshop, Detailed study kit shared along with our Best in Class Training Material
– Day 2: 8 hrs. interactive workshop to get creative and experience industry standard software with analysis
– Day 3: 6 hrs. interactive workshop with continued learning to make yourselves confident with software usage and new skills
– Day 3: Session concludes with Certification Exam at the same venue (3rd day typically gets extended by an hour)
– Certificate Issued typically on the same day (or max. within 24 hrs.) once the capstone project is completed
Online Workshop:
Days 1 and 2 get split into 2 days of 4 hr. online learning each day and the entire program duration increases to 5 days to manage the program easily.
Study Kit
– Preparatory module sent once registration process is complete
– Exercise and quiz modules
– Mock exams
– Our Class Leading: ProSigma's BOK* for Lean Six Sigma Green Belts (Main Training Material Book)
– Case Study data
*BOK: Book of Knowledge
Prerequisites
– No Prerequisites, however LSS Yellow Belt is considered a bonus
– Anyone and everyone should join this short but power packed Lean Six Sigma program
Workshop Requirements
– Laptop with MS Windows 7 or 10 installed
– Admin access to Windows, to allow the setup of trial version software used in workshop
– Spreadsheet software like MS Excel
What our student's feel ...,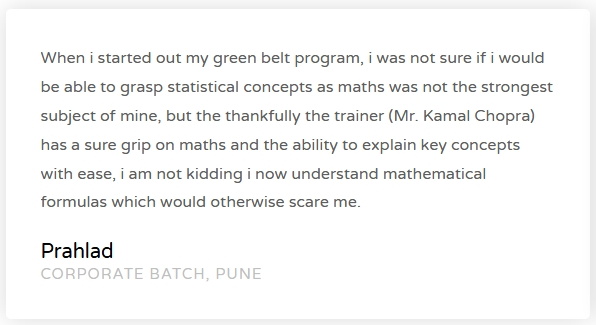 High End Projects Completed

Our Lead Trainer's Professional Experience
We typically reply to all queries the very same day ..., so go ahead and contact us to know more